I am part of a craft group who meet monthly. Each month we try something different and last month we did a spot of découpage. It was really simple, given that it's essentially sticking pieces of paper onto something. This month I've been thinking about crafts for Valentine's Day and I thought I'd make a découpage lantern, and it turned out pretty well. Here's what I did.
How to make a Découpage Lantern for Valentine's Day
You will need:
Two sheets of tissue paper
One clean jam jar
Some PVA glue (I used Bostik White Glue)
Some ribbon or coloured rafia craft twine
Tear up one sheet of the tissue paper, choose the paler colour. Paint the jam jar with the PVA glue and cover in the ripped up pieces of tissue paper. If you layer it up so that all of the jar is covered, but some parts have several layers it will create a nice effect when the candle is lit.
Once the jar is covered with tissue paper, take your darker paper and cut heart shapes in varying sizes.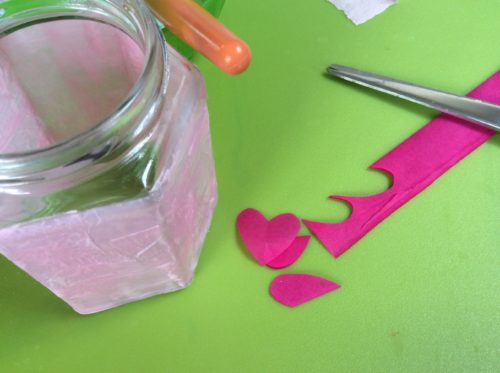 Glue the hearts over the jar however you like. I covered some of the sides of my jar with big hearts and others with little hearts. Leave the jar to dry for a few hours or overnight.
Once the jar is dry you can tie a ribbon around the top which finishes it off nicely and makes a really pretty little centrepiece for your Valentine's Day dinner table, or just some lovely mood lighting for a romantic night in front of the TV.
Découpage is really easy and so great for decorating lanterns and votives with. You can découpage almost anything. At my craft club we decorated little boxes which were quite pretty when they dried, but I think it really lends itself to glass and especially glass jars.
If you enjoyed this post, you may also like…