Pizza Express is one of our favourite restaurants to eat out at as a family. We all love pizza and pasta, the dough balls are to die for and they are really child friendly. Pizza Express is now available to be delivered straight to your door by Deliveroo, so we decided to put them to the test.
This weekend was an incredibly busy one for our little family. I spent most of it out of the house working and the boys spent most of it in the park running about. We all arrived home on Sunday evening, tired, hungry and in need of a lazy few hours cuddling on the sofa in front of the TV. I was in no mood to cook, so we decided to order Pizza Express and have it delivered to our door by Deliveroo.
I'd downloaded the free Deliveroo app a few weeks ago and every so often I had a little explore of what was available in our area. The app is really easy to use, choose the restaurant you would like to order from and just select what you want to order, pay for it and it's delivered to your door by a friendly chap on a bike.
We ordered the Etna Pizza – a succulently spicy Romana recipe, where nduja sausage is paired with sweet and spicy roquito chilli peppers. The Etna is exclusively available for Deliveroo customers.
I went for the Padana Pizza – goat's cheese, mozzarella, tomato, caramelised onion, spinach, red onion and garlic oil. And the small boy had the Piccolo American Set Menu – dough balls, pepperoni pizza and a little brownie. We grabbed a side of crispy, fluffy Potato Nocciola too – we were hungry!
The Deliveroo app helpfully has a countdown clock to show you where your order is up to – once it's out for delivery you can even track your delivery on the map. I thought this was cool and my husband thought I was some kind of psychic – "our pizza is at the lights outside the nail bar in the village" etc.
Our meal arrived piping hot, I was impressed at how hot it was actually. The delivery charge is £2.50 and on a cold night when you're all tired, I think it's worth paying for delivery. The convenience of having someone hand you your meal half an hour after ordering it is a nice treat, and it's always good to eat something I've not had to cook myself.
We all sat quietly munching through our pizzas. The small boy had the dough balls (always excellent), an American pizza, which was essentially a pepperoni pizza and a small brownie. He polished off every scrap and asked if we could have it for tea again – yes!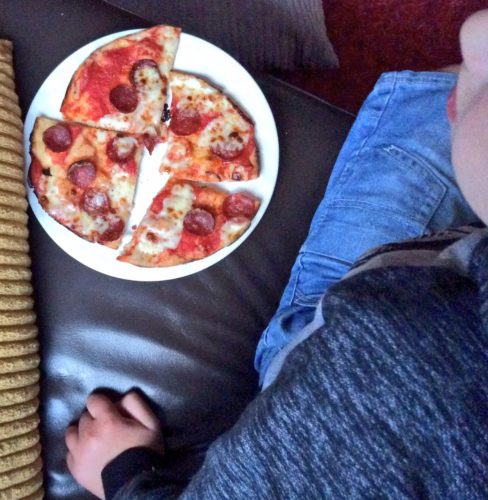 My Padana was very filling, loaded with toppings but I thought it could have done with another few minutes in the oven to really crisp up the base.
Hubs had the Etna. He loves spicy things so this was perfect for him. He polished it off in double-quick time and like me his only criticism was it needed a little longer in the oven to crisp the base.
If I'm being picky – my favourite pizza wasn't available (the Soho if you're asking) and I couldn't see a way to customise your order; so you can't ask for no mushrooms for example. But we were all impressed and we would definitely order Pizza Express delivered by Deliveroo again.
The spicy Etna pizza is exclusively available for Pizza Express customers to order by Deliveroo mobile app, through the Deliveroo website or through the Pizza Express website.
This is a collaborative post.