For many families it is something of a Christmas tradition to go and see a panto or a Christmas play. We are no different, but this year we thought we'd go and see something horrible, something very horrible indeed – Horrible Christmas from the Horrible Histories team.
Running until Sunday 8th January, Horrible Christmas tells the story of Wendy Watson who with the help of detective Shirley Holmes sets out to save Christmas from a very bad Santa – Sydney Claus.
This time travelling romp through history sees Wendy and Shirley chase Sydney and Rudolf through the ages, from Victorian villains to Medieval monks, Puritan parties to Tudor times, meeting notable figures from history including Charles Dickens, Oliver Cromwell, King Charles II and King Henry VIII.
It's very funny, it's fast paced, it's full of excellent songs, there's audience participation and a lot of laughs. Plus we all learned a little something about the horrible history of Christmas.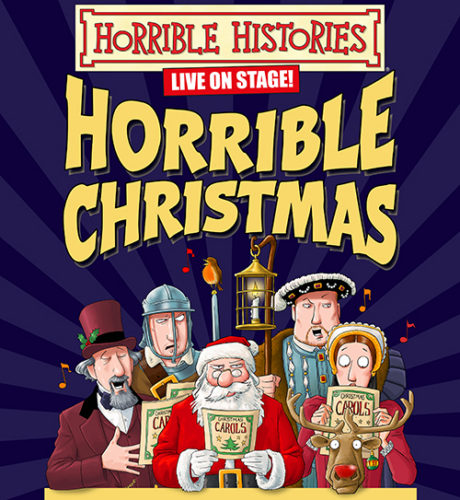 The songs are catchy and funny, with the rap by King Charles II being something very special indeed. The audience are encouraged to participate in a sing off (with actions) involving stuffing a selection of festive birds into other incrementally larger festive birds. You had to be there, but the boys loved it!
Neal Foster plays the role of "Dad" and a whole host of other historical characters. He was exceptionally funny in each and every incarnation. Chris Gunter is Sidney Claus – the baddest bad Santa of them all. Sidney is a Santa with a large dose of Fagin and an evil twinkle in his eye. His sidekick Rudolph is played to dopey perfection by Ashley Bowden.
Horrible Histories Christmas is around 2 hours long with an interval. It is suitable for children aged 4+. I took two six year olds and I thought some of it was a little over their heads. They were full of historical facts the next day, so maybe I'm wrong. With tickets starting at £10, this is a furiously funny alternative to the traditional panto.
Horrible Histories – Horrible Christmas The Lowry is on from Wednesday 7 December 2016 to Sunday 8 January 2017
We were invited guests of The Lowry. All opinions are our own.