I've got this fancy newish camera which I've been trying to use and get used to. I had planned on taking it on holiday to Devon for a week to try and spend some time getting to know it a bit better, but I ended up with a fairly epic chest infection a couple of days before we went and I wasn't really in the mood.
I decided instead to take my "old" camera, a Nikon Coolpix L820. It's a bridge camera and whilst it really struggles indoors, outdoors it comes into its own.
Before we headed down the M6 towards the South West one of my friends challenged me to take 5 decent photos of Devon. I don't think I've managed that, but I have chosen some pictures which will make me smile.
It wasn't a particularly great holiday, we'd booked an especially skanky cottage and ended up having to leave after three days and go and stay elsewhere. It was a shame, after everything we've been through these past few months I just really needed a rest, a break from the norm and some time to reflect and recover. But maybe that's something for another blog post. Back to the photos….
Day one of our holiday we got in the car and went for a drive to get our bearings. I've no idea where this place is, it's somewhere in Exmoor, somewhere where we stopped for some air. There was purple heather everywhere, gorse in flower and the air was as clear as a bell. I love the colour and texture in this picture.
The first cottage we stayed in didn't have much to recommend it, but it did have a huge buddleia outside the front door. It was teeming with butterflies and bees, so I snapped this little fella. Isn't he lovely?
Day two, in an attempt to cheer ourselves up we headed to the familiar territory of Westward Ho! It was worth the drive of nearly an hour for the fresh air and the lift in our spirits.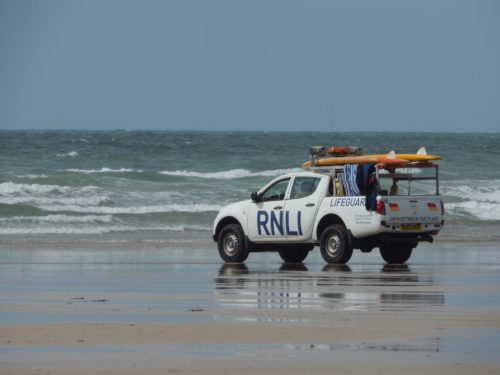 Although he will kill me for sharing this, I adore this photo of my boy running towards his Dad who had just been for a swim in the sea. Again this is Westward Ho!
It's not an especially lovely photo, but this is the view from the cottage we stay at in Welcombe in North Devon. Waking up to see the church, the sky and a tiny handkerchief of the sea always makes me happy, rain or shine.
On our last night we drove to Bude and had dinner at Life's a Beach, which by day is a beach cafe and by night a popular bistro. We had a delicious meal and then walked some of it off on the beach afterwards. Here's the small boy at his cheeky best.
The last night again, this time the beach at Bude, a harbour of sorts. It's not a great photo, but it is a photo of one of my happy places.
And lastly, on our way home we stopped at Westward Ho! (are you sensing a theme here?) and had fish and chips on the beach for tea. Whilst we waited for dad to come back I took this panorama and the boy played with his new sword and shield. The result is this rather moody shot of a knight which will probably always make me smile.

A mixed holiday for us, some lovely moments, some disappointment, but lots of lovely cuddles with the boys. Looking back I didn't take any or many decent photos, it's probably reflective of our mood at the time. We did have fun, we did stick brave smiley faces on for the boy and we did our best to make the best of our holiday. I think he had a good time and that's all that matters right now.