As the parent of a science mad child, we seem to spend a lot of our free time in science museums and visitors centres getting hands on with the sciences. As a result we've had some brilliant days out in our hometown of Manchester and across the North West. Today I'm sharing with you five of our favourite places to visit in the North West for science mad kids.
Manchester Museum of Science and Industry
I can't even contemplate writing about science in the north without mentioning the Manchester Museum of Science and Industry. It's a huge and iconic site, you can pop in for a quick hour or very easily spend a whole day exploring, learning and getting hands on. They have a wide range of permanent and temporary exhibits as well as lots of hands on things to do.
As I write this they have Tim Peak's Spacecraft on display as a temporary exhibit as well as the vast number of permanent displays including the Power Hall, Air and Space Hall, Textiles Gallery, Revolution Manchester and explore some artifacts from the Liverpool and Manchester Railway. Take a ride on one on the working steam trains along the track at the museum.
It's such a great day out, slap-bang in the heart of Manchester City Centre. Find out what's on at the Manchester Museum of Science and Industry on their website.
Catalyst Science Discovery Centre, Widness
The Catalyst Science Discovery Centre is the only museum in the UK which explores the science and technology behind the chemical industry. Packed with lots of hands-on exhibits, activities and demonstrations it's one of our favourite places to visit with our son. They have an ever-changing programme of hands on exhibits as well as a fabulous observatory, a "Scientrific" Gallery and the Alchemy Theatre & Catalytic Discovery Lab.
It's a brilliant science-packed place to visit, we love it there! For more information about the Catalyst Science Discovery Centre, visit their website.
Jodrell Bank Observatory, Cheshire
Most people will recognise the Jodrell Bank Observatory in Cheshire as the place where Stargazing Live is filmed. Jodrell Bank is owned and run by the University of Manchester and it is the home of the Lovell Telescope, the third largest steerable radio telescope in the world. It is open to the public and has a lovely new visitors centre as well as fantastic hands-on exhibits and gardens to explore, as well as the chance to have a look at the Lovell Telescope up close and personal.
You can read about our visit to Jodrell Bank Observatory here. For more information about Jodrell Bank Observatory visit their website.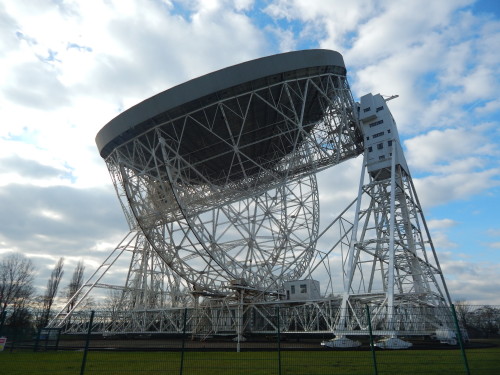 Spaceport Planetarium, Wallasey
Spaceport is small, but well worth a visit if you're in the area. With its focus on space and space travel, this attraction is suited to visitors aged 7+. Visitors learn about space as they walk through different themed galleries, which all have a variety of interactive and audio-visual exhibits, the highlight of which is a visit to the brilliant Spacedome planetarium itself.
Read this review of Spaceport Planetarium from Mini Travellers.
For more information, visit the Spacedome Planetarium website.
Manchester Museum
Manchester Museum is such an iconic place to visit for Mancunian children. It has so many interesting things to explore and is packed full of science exhibits. There are lots of natural history exhibits, plus geology, archaeology, botany and Earth sciences to go and see. The big draws for us are Stan the reproduction cast of a fossilised Tyrannosaurus rex and upstairs the frog filled Vivarium, home to a large collection of endangered Costa Rican Frogs.
We visit Manchester Museum with almost alarming regularity. It's a brilliant place to spend a few hours exploring and learning about all kinds of things.
For more information about Manchester Museum, visit their website.
There are so many fantastic places to visit in the North West. Where are your favourite places to take the kids to learn about science?