Packing for my birthday weekend away, I shoved the small boy's portable DVD player in the car along with his brand new Milkshake Stars DVD, hoping that around 2 hours of DVD fun would keep him entertained on the journey up to Whinfell. The Milkshake Stars DVD features well loved favourites including Thomas & Friends, Peppa Pig, Fireman Sam, Little Princess and Ben and Holly's Little Kingdom. It's fair to say it was a really good thing to take with us.
The small boy loves Milkshake. He races downstairs every morning to catch up on the latest goings on with Peppa Pig and Thomas & Friends. He loves Fireman Sam too, he doesn't have gender bias either, he's equally as fond of them as he is of Angelina Ballerina and Little Princess, so this DVD is almost tailor made for him.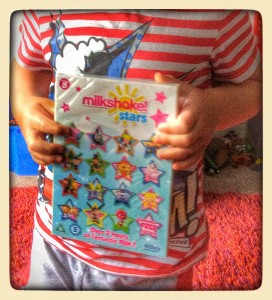 Did it pass the weekend away entertainment test? Yes, absolutely. It kept him occupied, interested and engaged for the entire two hour journey. He liked the variety of programmes to watch. He enjoyed watching his old favourites, Peppa Pig, Thomas & Friends and Angelina Ballerina, as much as he enjoyed discovering new favourites such as Pip Ahoy!, Toby's Travelling Circus and Jelly Jamm.
From a parental perspective, there are few things more annoying than putting a series DVD on and hearing the same theme tune every ten minutes, with this DVD there's a variety of programmes, so it's considerably less full-on. Plus it's nice to see him enjoy the programmes. We chatted about the content of some of the shows, and explored themes around what he'd seen.
The Milkshake Stars DVD is released on Monday 8th September 2014. It is a brilliant blend of action, comedy and fun. We were sent a preview copy for review, but the DVD is widely available in the shops and online. It's definitely going to be one of the most popular DVDs in his collection.
Note: We were sent the Milkshake Stars DVD free of charge for review purposes. All images and opinions are our own.