This month Craft Merrily have set the Bostik Bloggers the task of creating a craft for Easter. I've been looking at suncatchers for a while and I thought they'd be just the thing for those bright late winter days we've been having lately. Easter lends itself to glorious splashes of colour, so we made some colouful Easter Egg Suncatchers to cast some jewel coloured sunbeams across our home.
I printed a couple of Easter egg shapes out on acetate and cut them out. You can draw your own, but I've made my template available for you to download, which might make things easier for you. Here's how we made our Easter Egg Suncatchers.
How to make Easter Egg Suncatchers
You will need:
An Easter egg shape cut out of acetate or clear plastic
Selection of craft jewels or acrylic gems
Bostik White Glu
A piece of ribbon for hanging
Method:
Cut out your Easter Egg shapes and using a hole punch make a hole at the top. Thread a length of ribbon through the hole and tie a knot in it.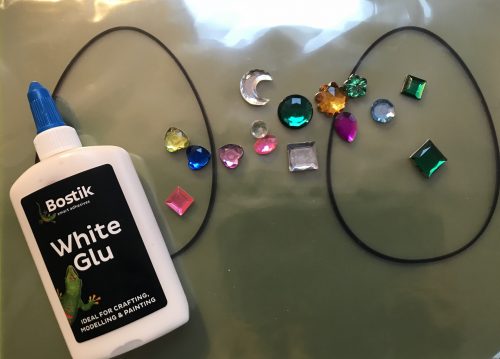 You can have a design in your head, a pattern or colour-scheme that you like, or you can glue the gems on randomly, whichever you prefer. Glue them onto the Easter Egg shape using a dab of glue on the back of each one.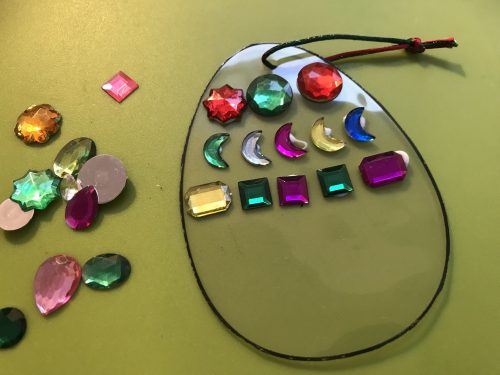 Once you're happy with your design, leave your Easter eggs to dry for a couple of hours. Once they're dry, hang up at a window and prepare to be dazzled when the sun shines through your window.
These suncatchers are such a lovely simple craft, they're perfect for tots and right up to bigger boys and girls. My 7 year old really enjoyed decorating his. We were both thrilled when the sun came out and shone through our suncatchers, casting a wonderful dazzle pattern on the wall.
Check out my other craft tutorials here!
I am a Bostik Craft Blogger and I was sent the materials to create this craft from Craft Merrily.