With Christmas just around the corner, Abbey Home Media have a festive treat for fans of Channel 5's Milkshake, with the release their new DVD collection and perfect stocking filler – Milkshake Fabulous Friends DVD.
This is a brilliant compilation DVD of your favourite children's shows from Channel 5's Milkshake! Hit shows on this newly released DVD include Peppa Pig, Ben and Holly, Fireman Sam, Thomas & Friends, Little Princess, Bananas in Pyjamas, Toby's Travelling Circus, Wanda & The Alien, Pip Ahoy, Toot The Tiny Tugboat, Dora & Friends, Paw Patrol, Wissper, Lily's Driftwood Bay and Bob the Builder.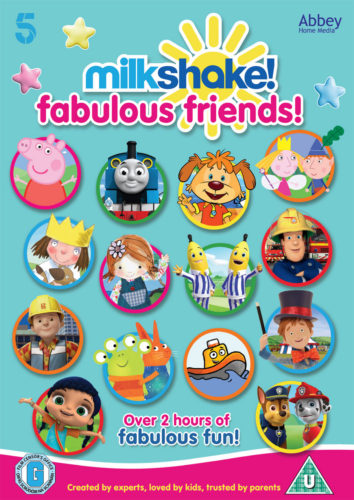 We were sent a copy of the Milkshake Fabulous Friends DVD to watch, and we thought it was a most brilliant way to spend an afternoon of family cuddles on the sofa. The DVD has most of his favourites on there and at over two hours long, it's a great DVD to dip in and out of, or to help fill a rainy afternoon now that winter is here.
Obviously top of his list is Paw Patrol, and this DVD contains probably his favourite episode ever – Pup Pup Boogie; where Ryder, Chase and Rubble use their dance moves to help repair the tracks before the next train arrives.
One of his other favorites is Thomas & Friends. When Harold the Helicopter breaks down, Thomas and Duck take him to Sodor Search and Rescue for repair. Thomas wants to show them the sights but Duck isn't keen. They need to learn to work together to be Really Useful Engines!
And in the Peppa Pig episode 'The New Car', Peppa's family car breaks down. While their car is being mended, they borrow a shiny new one from Grandad Dog's garage. Lucky Peppa!
Milkshake Fabulous Friends DVD is a great compilation of all of your favourite shows on Milkshake! It is rated U, it is 140 minutes long and it's available in a wide range of retailers and online now. Compilations are great DVDs for children who like a bit of variety, and this would make a great stocking filler this Christmas.