This month Craft Merrily have set the Bostik Bloggers the task of creating a flying craft. I asked the boy what he wanted to make with his friends and he said hot air balloons. His wish is my command, and so I set to work gathering what we needed to make hot air balloons.
These hot air balloons are a really simple craft and a great excuse for the children to let their imaginations go wild and to decorate their balloons however they want. I did originally imagine that they would want to decorate the hot air balloons with pieces of coloured paper and sparkly embellishments, but on the day they were very keen to just draw pictures of the dog.
How to make Paper Plate Hot Air Balloons
You will need:
A paper plate
Some string or wool
A paper cup
Bostik White Glu
Scraps of colourful paper
Felt tips
Sparkly embellishments
How to make your hot air balloons:
Set up your craft table and set the kids to work decorating the back of the paper plates (this is so the balloon looks domed). I lay our Bostik White Glu, scraps of colourful paper, felt tips and some extra embellishments and let them get on with decorating their balloons how they wanted.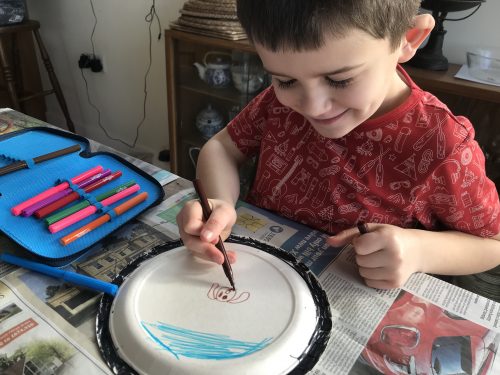 While they were busy decorating, I took the paper cups and made two small holes to thread the string through. I then cut a length of sting, threaded it through each hole and knotted it inside the cup.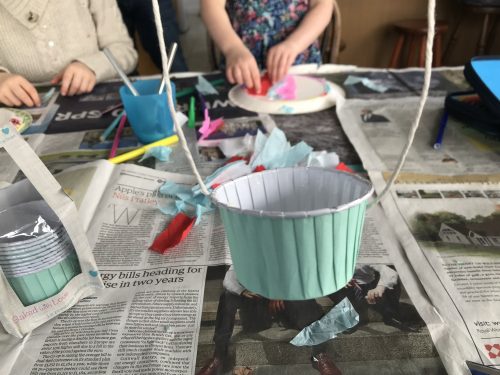 Once they'd finished decorating their plates I sellotaped the loop of string to the back of the plate, making a loop at the top of the plate so it could be hung up. We then left them alone for a few hours for the glue to dry.
They were delighted with their hot air balloons and were really happy when we hung them up around the house. They filled the paper cup basket with all kinds of things too. Small teddies and little LEGO figures found themselves floating through the sky!
It's such a simple craft, perfect for a rainy day and great for making use of any craft bits and pieces you've got in your craft box.
Check out my other craft tutorials here!