Last Updated on March 11, 2019 by HodgePodgeDays
Last year I reviewed some Beech's Fine Chocolates Easter chocolate treats and developed a very soft spot for this local company producing excellent chocolates. Beech's Fine Chocolates have been making traditional British chocolates in Preston, Lancashire since 1920. They were kind enough to send me some of their new range of chocolates to try out.
First of all I loved the colourful statement packaging. I really like how colourful and fun they are, each box has a bold pattern which really makes them stand out from the crowd and all the packaging is recyclable. Beech's Fine Chocolates are made using 100% natural ingredients and all products are gluten free and many are suitable for Vegans.
After dinner we opened the Original Dark Chocolate Fruit Creams which are made to a traditional recipe using natural fruit oils.  This 150g box contains a selection of  orange, lime, raspberry & lemon cream centres which are covered in dark chocolate.  They boys liked these best, I'm not usually a fan of fruit creams, I often find them a bit sickly, but I liked these, they weren't too sweet and I very much liked the lime flavour. There were 14 chocolates in this attractive box which retails for £4.75, they are also suitable for vegetarians and vegans.
In another beautiful box were the Milk Chocolate Covered Dairy Fudge. I'm a bit of a lover of dairy fudge, it's sweet but not as sweet as the crumbly bags of fudge you get at the seaside. This 100g box does not disappoint and I was a bit reluctant to share. Each box of the Milk Chocolate Covered Dairy Fudge contains 9 chocolates and retails as £2.99. This product is also gluten free.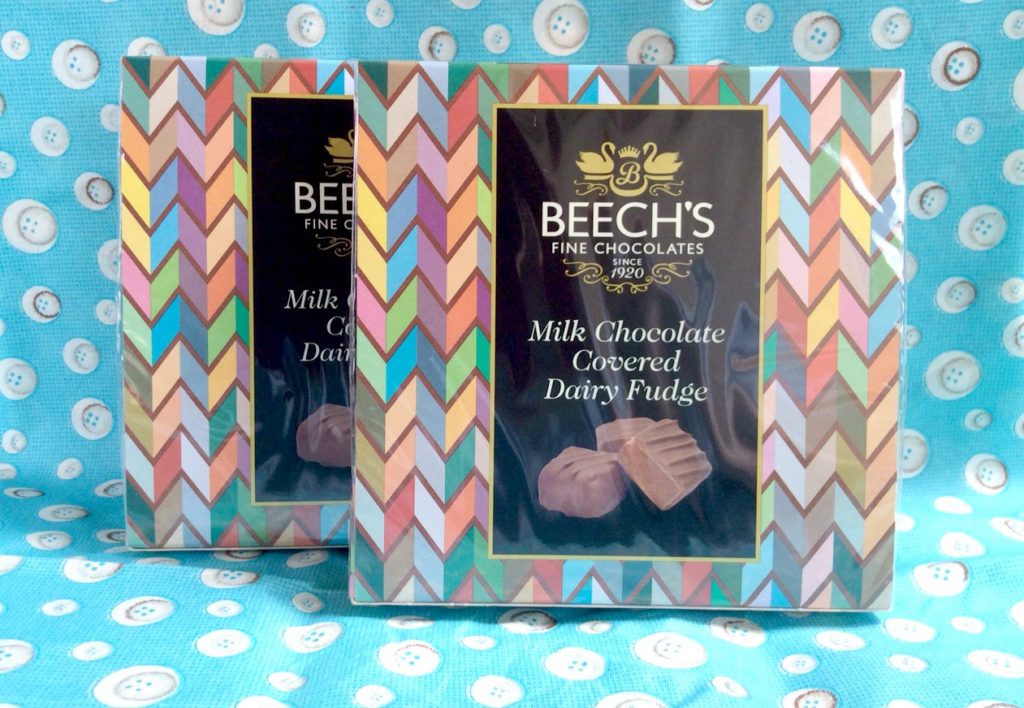 Hubs loves mint chocolates, so he opened the Original Dark Chocolate Mint Creams and gave his approval. He liked the smooth dark chocolate and the mint cream which he thought wasn't too sweet. The 150g box contained 14 of these lovely minty chocolates which are made using English Mitcham Mint oil, which is grown in Hampshire. The mint creams are suitable for vegans and vegetarians and are gluten free.
I have to confess that I wasn't really looking forward to the last box of chocolates we tried. Milk Chocolate Coconut Macaroons, I'm not usually a fan of coconut and wouldn't pick a Bounty out of the selection box, but these were hands down my favourite chocolate of the selection. Lovely milk chocolate and hand-shredded coconut all mixed up together and made into a lovely bite-size macaroon (not a trendy macaron). Apparently these were very popular in the 80s and 90s and they've brought them back and I hope they stay!
They cost £2.99 for 9 chocolates and I adored these, perhaps a bit too much. Even if you're a bit uncertain about coconut I'd say give these a try, I don't think you'll regret it.
It's nice to see Beech's Fine Chocolates bringing out a new range and reinventing some of their old favourites. They're a lovely, good quality chocolate and they are good value without looking or tasting cheap. They always have offers on their website, so it's worth checking out especially if you're buying a few boxes. I'm very happy to buy Beech's because they're fairly local to me and delicious too.