This week I became the proud and excited owner of an Instant Flower Press from Interplay. Admittedly it's designed for children, but both my son and I had great fun with it and we've created some pretty little dried flower craft items yesterday afternoon with some flowers we picked on the way home from school.
The Instant Flower Press is really simple to use and comes with an instruction booklet. You open up the press, put a layer of the felt pads and the pieces of cotton material in the plastic press, place your flowers inside. Put another layer of cotton and more felt pads (all supplied) and close the press. Pop it in the microwave for 20-30 seconds and you've got dried pressed flowers. Slightly more moist flowers may take a little longer in the microwave, but once you start pressing your flowers you'll quickly be able to judge what will take an extra ten seconds and what will dry more quickly.
As a child my Grandma had a flower press and I loved using it with her, carefully picking pansies from her garden and pressing them between thick parchment and screwing the press shut, then leaving it for months before seeing the fruits of our labour.
With the microwave flower press the whole process is done and dusted in minutes and perfect if you need some pressed flowers for some quick dried flower craft.
Quick and easy Dried flower craft ideas
Pretty Jam Jar Candle Holders
You will need:
A clean jam jar
A selection of dried flowers and leaves
PVA glue
A paint brush
These are so simple. Take a clean jam jar and some PVA glue and a paint brush, brush the glue onto the jar where you want to stick your dried flowers. Carefully press the flower onto the glued area to stick it on, then gently cover the flower with PVA glue to seal it in place. Leave to dry.
You can be as creative as you want with this, I've left mine quite simple, but I love the delicate little blue flowers and the daisies. It took hardly any time at all to glue on, but maybe an hour to dry properly. They look so pretty and I can see me using this idea on so many things around the house.
Pebble Paperweight 
You will need:
A clean stone
A selection of dried flowers and leaves
PVA glue
A paint brush
Again, this is very simple. We have a pile of lovely smooth pebbles in the garden, so I picked one the right size and gave it a good scrub and left it to dry. Then I selected a suitable leaf which I'd dried in the flower press and brushed PVA glue onto the pebble and pressed the dry leaf into place. I left it for a few minutes to stick, then I painted PVA over the leaf to seal it in place and then I left it to dry properly for a few hours.
I've now got a lovely paperweight, or a pebble to stop my napkins flying off the table when we eat in the garden.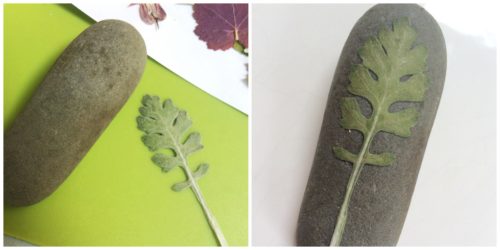 Dried Flower Sun Catchers 
You will need:
A laminator and pouches or some sticky backed plastic
A selection of dried flowers and leaves
Borrowing a laminator I arranged some dried flowers in an artistic way in the laminator pouch, I then put it through the laminator a few times until I was happy. I then cut my A4 sheet down into a circle and using a clear sticky dot stuck it to the window.
It's really quite pretty and I've got a nasty window in the downstairs loo which needs replacing, which I'm now going to cover in these lovely dried flowers to pretty the place up a bit!
These are just three very quick ideas I had for dried flower crafts that afternoon. I've got a few more ideas up my sleeve including some nice thank you cards and other papercrafts.
The Instant Flower Press from Interplay is a cracking piece of kit and if you enjoy crafting and have kids that enjoy crafting, then I can't recommend it enough. The small boy went to school today with a bag full of dried flower pictures for show and tell and he's loving showing off his dried flower craft to anyone who will listen. It's nice to do something a bit different with him and importantly he's really enjoyed it and got something out of it too!
The Instant Flower Press from Interplay costs £9.99, is suitable for ages 8+ (though my 5 year old used it happily with supervision) and is available from a wide range of retailers.
Note: We were sent the Instant Flower Press from Interplay for review purposes. All images an opinions are our own.