If you're looking for a simple but quite beautiful Christmas craft, then this is probably it. These lovely Christmas button wreath decorations are really simple to make and look great hanging on a tree. Not to mention, if you're making them with the kids, then it's excellent for their fine motor skills!
A few years ago I made a selection of button Christmas decorations, and each year when I hang them on the tree, I continue to be impressed by them. They're so simple to make, but look really quite cool.
I have billions of buttons, so one quiet afternoon, I decided to try my hand at a simple Christmas button wreath decoration. I thought it would look pretty good on the tree and I was not wrong. They really are simple to make and you can make it as colourful or traditional as you want. Here's how I made mine.
How to make a Christmas button wreath
You will need:
70-100 buttons in whatever colours you want
A length of craft or jewellery wire
Wire cutters (optional)
Ribbon for a bow and for hanging
Making your Christmas button wreath –
Start off by cutting a length of wire approximately 25cm long. Put a little bend in one end to stop the buttons slipping off.
Next you can start threading the buttons onto the wire. I did this in red-green-white order, but you can use whatever colours in whatever order you want. My Christmas colour palette is very traditional, but yours can be as colourful as you like.
Once you're threaded your buttons onto the wire and you're happy with how they look (I tried to put the smaller buttons at each end and the larger ones in the middle), it's time to tie it off.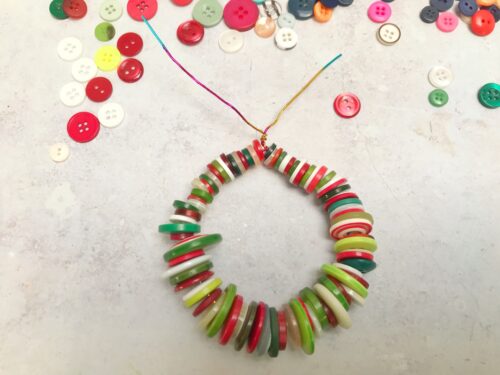 Take both ends of the wire and twist them together so the buttons can no longer slip off. Twist them together tightly, you may need to snip off the excess wire with your wire cutters. If you can, tuck the ends under and between the buttons so they are out of the way.
Gently pull the wire and buttons into a circle shape to make the wreath, this shouldn't take very much effort at all.
Next take a length of ribbon and tie it around the top of the wreath, tucking in the ends of the twisted wire. Tie the ends of the ribbon with a firm knot to make a hanging loop. Take another length of ribbon and tie a nice bow at the top of the wreath. It should now be ready to hang on your tree.
If you enjoyed this, you might also like to try –