When it comes to throwing together a quick lunch or picnic; sandwiches and sausage rolls are always the order of the day. Being able to serve up a still warm, freshly baked batch of homemade sausage rolls will earn you the kind of domestic goddess style brownie points that a trip to Greggs simply cannot match.
I always keep the ingredients to make these sausage rolls in the freezer, so I can whip up a quick batch if I need to. If you can defrost the ingredients overnight before making your sausage rolls, then so much the better. These sausage rolls are really easy to put together. I admit that they are quite cheaty, but they are miles better than any shop bought ones.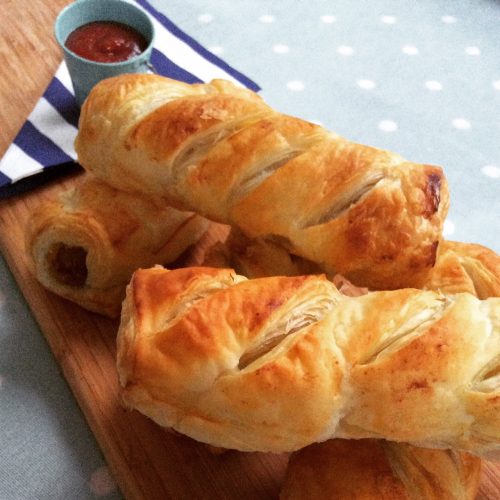 Easy, Cheaty Sausage Rolls
Ingredients:
1 packet of ready-made puff pastry
8 of your favourite sausages, or equivalent weight in sausage meat
100mls milk
Method:
Preheat your oven to 220° and grease a large baking sheet.
Unroll the puff pastry. You may need to use a rolling pin to roll it out a little thinner if that's your preference. Cut the pastry with a knife into 8 equal parts which are long enough and wide enough to wrap around a sausage.
Squeeze the sausage meat out of the skin and place the sausage meat in the middle of each piece of pastry, discard the sausage skin.
With a brush, brush along one edge of the pastry and roll it into a sausage roll shape, using the moistened edge to seal it shut. It doesn't really matter if the sausage meat is peeking out from the ends of the roll.
Once you have finished, score the top of each one. I used 3 or 4 slashes, and then brush them with milk.
Bake in the pre-heated oven for 20-25 minutes until golden brown. Leave to cool slightly before eating. I think they're nicer warm, but they can be eaten cold and are perfect for a quick lunch or a picnic in the park.
If you're catering for a party, you could cut your sausage rolls into smaller, bitesize pieces before baking. Make sure you reduce the cooking time slightly if you do this. You could also swap out the meat sausage for a good veggie sausage if you're catering for vegetarians.
If you enjoyed this recipe, you might also like to try these delicious vegetarian black pudding sausage rolls.