These days we're increasingly mindful of what we throw away. Disposing of plastic and packaging responsibly is something we're really trying to do, although not always successfully. I often get boxes, packages and deliveries and where I can I recycle or re-use the packaging, but sometimes I need to get creative. When a box arrived filled with packing peanuts my heart sunk. What was I going to do with all these? The answer was simple, crafts. On this occasion I thought I'd make a Packing Peanut Flower Garland to pretty up my freshly painted living room.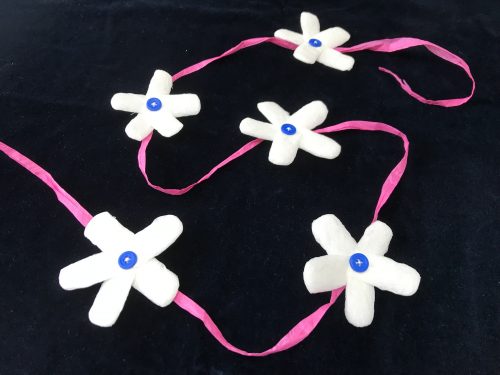 I hadn't realised this until now, but most packing peanuts are made from cornstarch, so if you get them wet they just dissolve into a sticky mess. I thought they were made from a plastic foam which wouldn't biodegrade, but I was wrong. If you can find no other use for them, you can happily throw them in your compost bin and think no more about it, but I had plans for my packing peanuts!
The Packing Peanut Flower Garland is a simple craft which I happily sat and sewed while I was watching my current guilty pleasure – Say Yes to the Dress! It doesn't require any great skill with sewing – because I have none really, but it's a lovely little garland which costs pennies to make and would brighten up any space!
make a Packing Peanut Flower Garland
You will need –
Packing peanuts – 5 or 6 per flower
Needle and thread
Buttons
A long piece of ribbon
Method –
Flatten your packing peanuts. I used a rolling pin but you can squash them flat with your hands if you want.
Take 5 or 6 flattened peanuts and arrange them in a flower shape. Using a needle and thread, sew them together in the centre of the flower. Once they're secure, take your button and sew it on to the centre of the flower. Then place your flower where you want to sew it on the ribbon and stitch it in place through the button.
Keep sewing flowers and adding them to the garland until you're happy with how many flowers you've got. Tie a small loop at each end of your ribbon and hang up wherever you think best. It doesn't matter where, as long as it's dry!
I'm really quite pleased with my Packing Peanut Flower Garland. It's so simple and costs very little to make, it's the prefect frugal craft for those who hate waste!
If you enjoyed this, you might also like some of my other craft posts.