At Christmas time I can't get enough of mulled drinks. Mulled wine is a favourite but a few years ago I tried Mulled Cider and my head was turned. I'm more likely to drink Mulled Cider at home and it's such a delicious and warming drink, it really sings Christmas to me.
When I mull at home, I usually use a ready-made spice sachet, usually one from Steenbergs because I can't fault them. This Christmas I've been using the Spices for Spiced Cider and Apple Juice and they've really hit the spot. All you do is warm through a litre of cider or apple juice, tip one of the sachets in and after a few minutes it's ready.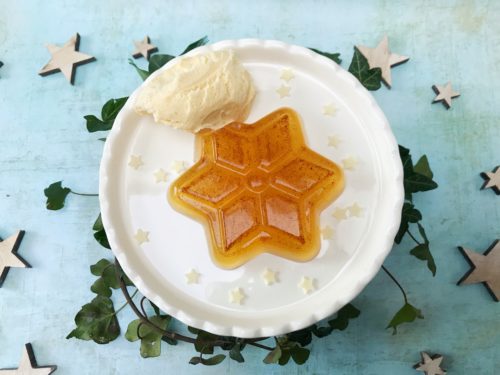 Sometimes, and this is not very often, I mull too much cider and I'll have some left. Sure, I could heat it up again later, but I fancied making something different with it. I thought I'd make some Mulled Cider Jellies. It turns out they make a really interesting, different and delicious festive dessert. You could make them just as well with apple juice if you're serving them to children or people who don't drink alcohol. This recipe makes 4 good-sized jellies.
Mulled Cider Jellies
Ingredients:
1 pint of mulled cider or mulled apple juice
2 tablespoons of sugar
A sachet of Dr Oetker Vege Gel
How to make Mulled Cider Jellies:
Take about 200mls of your cooled mulled cider and stir the Vege Gel into it, make sure all the powder dissolves.
Add the sugar and bring the remainder of the cider to the boil, once it's boiling, add your 200mls of cider and Vege Gel into the pan and stir, stir, stir.
Make sure you have your moulds ready for your jelly as it will start to set really quite quickly. I used some small glass pyrex dishes and also a metal cake mould in the shape of a star. You could make one big jelly if you prefer.
Pour your jelly carefully into your serving dishes and put them in the fridge until it's set properly. This took about two hours, but if you can it is probably worth leaving the jelly overnight in the fridge.
I turned my jelly mould out onto a serving plate, be careful when you do this so not to break the jelly.
Serve with good vanilla ice cream.
Be careful if you're turning your jelly out of the moulds, I tried to move my jelly and ended up breaking a little piece off the corner which I then covered with ice cream, so it was all fine in the end.
It's such a pretty little pudding, easy to do and something a bit different at Christmas.
If you enjoyed this, you might also like to try –
I was sent some mulled cider spice by Steenbergs and decided to use in in this recipe. I have not been compensated for this post.