Over the summer holidays my son turned into the snack king. He seemed to be constantly hungry and as a result, we went through an awful lot of fruit, bread sticks and little pieces of cheese (he grew an inch over the summer, so we know where all those snacks went). I was throwing another empty box of cheese triangles into the recycling bin when I wondered if there might be a better use for this handy little box, so I put it to one side and got thinking. A few days later I'd hatched a plan to make a Space themed felt busy box.
A busy box is a box with a lid which you put together for children to play with when they're out and about. Big fun in a little box if you will. Busy boxes usually have felt inside, with felt figures, shapes or characters to play with. I knew my son with his space themed bedroom, love of the night sky and slight obsession with Tim Peake would enjoy a space themed busy box. If I'm honest, I enjoyed making it for him too.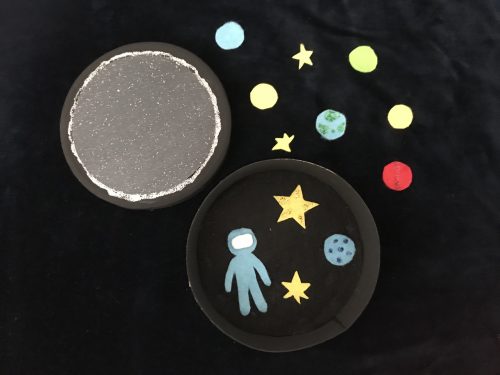 Make your own Space Themed Felt Busy Box
You will need:
An empty cheese triangle box
Black paint
Bostik White Glu
Black felt
Coloured felt
Bostik Glu Dots
Scissors
Blu Tack Glitter Pens
How to make your own Space Themed Felt Busy Box:
Take your empty cheese triangle box. I used a large one which had a double layer of triangles in. Paint the box inside and out with black paint, leave to dry. You might want to give it a second coat if you think it needs it.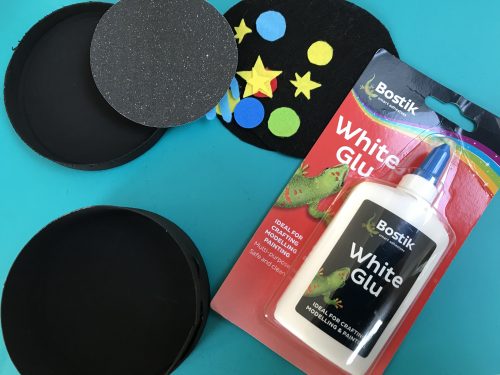 Once dry, use a pencil to draw around the box base and lid on the black felt and cut out your black circles. Check they fit in the box, you might need to trim them a little. Using the Bostik White Glu, glue one circle in the lid and another in the base, press in place and leave them until the glue is dry.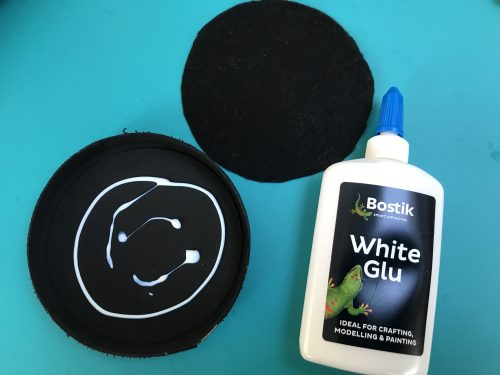 Meanwhile, with the coloured felt, cut out some space themed shapes. I made an astronaut with a visor which I stuck in with a Bostik Glu Dot. Then I cut out some planets and stars. I did all of this freehand which you can probably tell from the shape of my stars. I used some Blu Tack Glitter Pens to decorate some of the felt shapes. Put these aside and leave them to dry.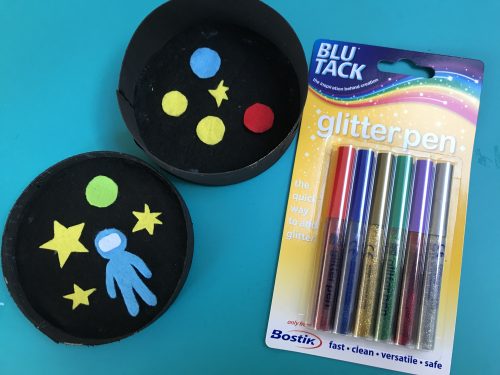 I decorated the lid with a piece of shimmery card and a silver glitter pen. You could leave your lid plain black or you could stick on some paper stars, or whatever you want to do. The only limit is your imagination.
A busy box is a great way to entertain children on journeys or waiting for appointments, or if they just want or need a little focused quiet time. It can be good for developing their fine motor skills, it's a great little sensory learning tool and can help develop their language and storytelling skills. It's also great for sparking their imaginations. We really enjoy this kind of play and busy boxes can be made in all kinds of different themes.
Check out my other craft tutorials here!
I am a Bostik Craft Blogger and I was sent the materials to create this craft from Craft Merrily. I have not been compensated for this post.