If you were to ask my family what their favourite meal is, it would be Pesto Baked Fish. If you were to ask me what the quickest, healthiest meal I make is, it would be Pesto Baked Fish. It takes me about 2 minutes to prepare and 15 minutes to cook. The fish just seems to evaporate from their plates as soon as I put it in front of them. It's a speedy-dinner winner!
We are very lucky to have a good traditional fishmonger in our village. I always try and buy my fish from there; it's good to shop local when you can and the fish is incredible quality. It's so fresh and they can bone it and prepare it any way I want. For this recipe I use one fillet of white fish per person. I was cooking for the boys so I needed two fillets of skin-on white fish. The sea bass looked great, so I opted for that. I have also bought some plaice fillets and put them in the freezer for another week.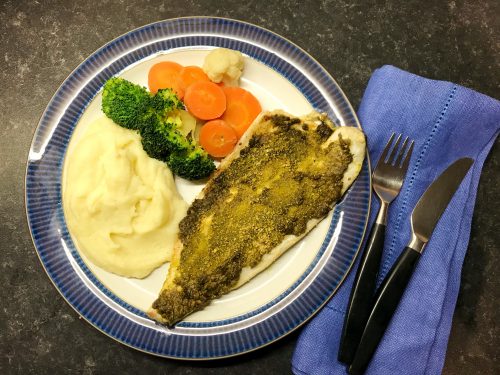 If you don't have a fishmonger local to you; you can buy packets of skin-on fillets of fish from the supermarket. You can choose any white fish you like the look of. I've made this with plaice, sole, cod, haddock or bass. If you're cooking a thicker fillet of fish like cod, make sure you cook it for a bit longer to allow for the extra thickness of the fish.
The NHS recommends that we eat two portions of fish each week, with at least one portion being oily fish such as salmon. I'm sure this recipe would also work well with salmon, but my boys find it a bit boring and much prefer the white fish. The white fish I choose is low in fat, an excellent source of protein and contains some of those omega-3 fatty acids which are essential to our diet.
Pesto Baked Fish
Ingredients:
1 fillet of fish per person
Freshly ground pepper
1 heaped spoon of pesto, red or green pesto work equally well
1 teaspoon of breadcrumbs
A small knob of butter
Method:
Pre-heat your oven to 200°.
Check your fish over for bones and remove any that you find. Put your fish skin side down on a baking tray which has been covered in baking parchment. Grind some black pepper over the top and put a dab of butter on the paper either side of the fish.
Spread a heaped teaspoon of pesto over the fish. You can use red or green pesto, whichever is your favourite, both work well. Scatter your breadcrumbs over the pesto. I have a tub of dried breadcrumbs in my cupboard, but I have used fresh breadcrumbs. Both kinds are fine, use whichever you have to hand.
Bake in your pre-heated oven for 15 minutes (or longer if your fish fillets are thick). Check they're cooked through, they should be starting to brown slightly at the thin edges. Once they're cooked, take them out of the oven and serve.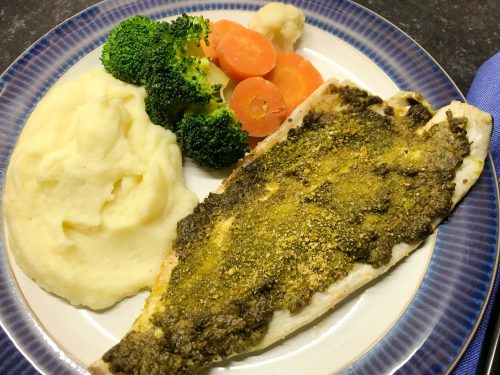 As you can see I've served my fish today with creamy mashed potato and vegetables. In the summer it is accompanied by new potatoes and a lovely fresh salad. It's a flexible, simple summer which is guaranteed to be wolfed down every time by my hungry boys.
If you enjoyed this recipe, you might also enjoy my 55 ideas for family meals your kids will actually eat.