July is National Ice Cream Month and there's no better month of the year to sit in the sunshine and eat a cool refreshing ice cream. We have two plum trees in our garden and each year we have more plums than we can cope with. In years gone by I've made plum tarts and crumbles and big batches of plum jelly. This year I put some aside to make a batch of fruity and refreshing plum ice cream.
This plum ice cream recipe is quite simple to make and you can do it even if you don't have an ice cream maker. Sadly as we began to churn our first batch of this lovely ice cream, our ice cream maker churned its last and ended up in the bin.
I've called this no churn plum ice cream, but you can churn it if you want, it's often easier if you have an ice cream maker, but not the end of the world if you haven't.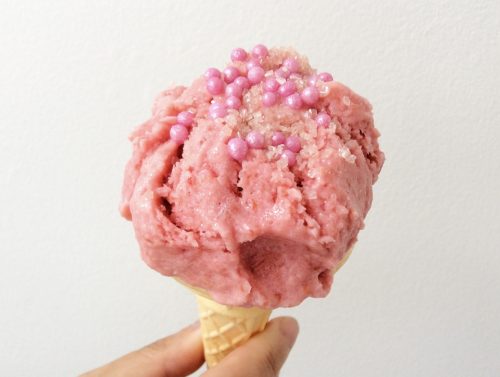 No Churn Plum Ice Cream
Ingredients:
400g of ripe plums
200g caster sugar
200mls double cream
200mls vanilla yoghurt
Method:
Take your plums and give them a wash and check them over for nasties and rotten bits, discard if you're not happy with the fruit. Use good ripe, juicy plums. Heat the plums in a large saucepan with a good splash of water. Boil them until soft, then rub them through a sieve to get rid of the stones and skins.
Pour the plum purée back into a clean pan and warm gently, add the sugar and stir until it has dissolved. Taste the purée, add more sugar if you think it needs it. Some plums can be quite tart. Leave the mixture to cool.
If you have an ice cream maker, add the cream and vanilla yoghurt to the purée and combine. Following the instructions on your ice cream maker, add the plum ice cream mixture and churn until it's ready. Them store it in the freezer until you're ready to use it.
If you're not using an ice cream maker, perhaps because yours suddenly died; whip the cream before adding the vanilla yoghurt and the plum. Pour the ice cream mixture into a large tub with a secure lid and put it in the freezer. Remember to take it out of the freezer every 45 minutes or so and give it a good stir with a fork, this will stop ice crystals from forming.
Once your ice cream is frozen, it will be quite set, when you need a scoop or two, take it out of the freezer about 15 minutes before you need it, it'll be easier to scoop!
I've topped the plum ice cream with pink sprinkles, but crushed amaretti biscuits are just fabulous on it. Go forth and make plum ice cream with some of your summer fruit glut, you won't regret it!
If you enjoyed this recipe for plum ice cream, you might also enjoy these recipes: