This month Craft Merrily have set the Bostik Bloggers the task of creating a craft for Valentine's Day. Last year I made a lovely découpage candle holder for Valentine's Day, but this year I thought I'd make a Paper Heart Wreath.
I really like making paper wreaths, we have a place in the kitchen where I like to hang the seasonal wreaths I make. This is a little different to my usual style, this Paper Heart Wreath is put together with easy to make 3D hearts. It's really quite easy to make, it looks very effective and it's a lovely Valentine's decoration.
How to make a Paper Heart Wreath
You will need
Colourful paper, A4 size
Scissors or a craft knife
A ruler
Bostik Glu Dots
A length of ribbon
How to make your Paper Heart Wreath
Using a ruler measure the long side of your piece of paper and divide that length by 7. Measure out 7 equal widths of paper and carefully cut into strips using a pair of scissors or a craft knife. If you're doing this with children then you may want to be in charge of this bit.
Fold each strip in half, make sure you've got a neat, crisp fold here, this will be the pointy bottom of your heart shape.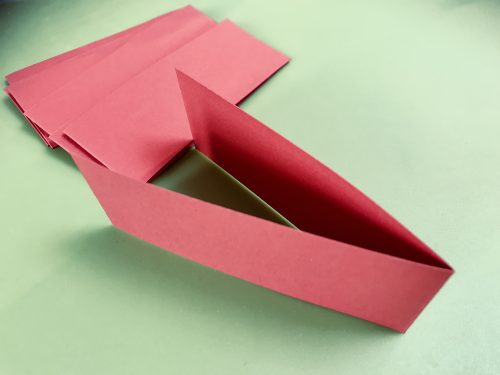 Using a glue dot, stick a dot at the end of your strip and bend the edges together to create the heart shape. Press the paper together so the glu dot is holding the shape firmly in place. Do this with all 7 hearts.
Take two hearts and stick them together using the glu dots. Then take your ribbon and using the glu dots stick the ribbon to either side of the two hearts. Make sure the ribbon is positioned so the ends will be hidden between the hearts. Using the glu dots, carry on sticking the hearts together until all 7 hearts are stuck together.
Your paper heart wreath is now finished and you just need to find somewhere to hang it!
I am a Bostik Craft Blogger and I was sent the materials to create this craft from Craft Merrily. 
Check out my other craft tutorials here!