I love baking at Christmas, but sometimes I just want to step away from the oven and make something colourful, a bit silly and something that Will Ferrell's Elf might fancy for breakfast. This Christmassy rocky road is a great thing to make with kids, it's all bashing and stirring and waiting patiently (and impatiently) for it to set so it can be cut up and gobbled down greedily.
Rocky road usually has marshmallows in it, but I decided to swap these out for Haribo Christmas Trees to make each slice extra festive. If you want to leave the gummy sweets out and stick to the traditional marshmallows, then just swap them in the recipe.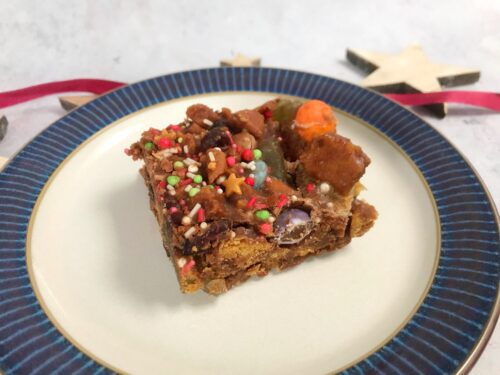 CHRISTMASSY ROCKY ROAD
Ingredients:
200g Milk Chocolate, broken into small pieces
2 Tablespoons of golden syrup
135g Unsalted butter
200g gingerbread men
100g Christmas sweets, I used Haribo Christmas Trees
75g Dried Cranberries
60g Smarties or M&Ms
Christmas sprinkles
Method:
Line a high sided baking tray with baking parchment. I used a square 20cm tin.
Put the milk chocolate, golden syrup and butter in a glass bowl. Using a bain-marie (put an inch or two of hot water in the pan and place the glass bowl over the top making sure the water doesn't touch the bowl) over a gentle heat. Stir the chocolate, golden syrup and butter until everything has melted together.
While the chocolate mixture is slowly melting, put the gingerbread biscuits into a plastic bag and bash them with a rolling pin until they're broken up, but not crumbs. Ideally you want a mixture of chunky pieces and smaller, crumbly bits. Once bashed, tip them into a mixing bowl. Add the marshmallows and raisins and the Smarties or M&Ms and add them to the biscuit mix.
Once the chocolate mixture has melted, take it off the heat and carefully tip the biscuity mix into the chocolate. Stir it well and make sure everything is coated. Then tip it onto your baking tray spread the mixture out and gently press it down with the back of a spoon. It needs to be about 2cm deep as a minimum, but the thicker the better as far as I'm concerned.
Lastly, sprinkle over your Christmas sprinkles and put somewhere cool (or in the fridge) to chill and set for a few hours, preferably overnight if you can wait that long!
If you enjoy regular rocky road, then this Christmas version is so much extra. The gingerbread biscuits really make it extra special, and all the festive treats packed into it make feel like a bar full of festive joy.
If you enjoyed this, you might also like to try –