The last few years have seen a huge increase in family festivals in the UK. We've been to a few of them, this year we're going to both the Timber Festival and Just So Festival. There are a few other festivals happening over the summer, here's our pick of fabulous family festivals this year…
Timber Festival, 6th – 8th July
July sees the first ever Timber Festival.  Timber is set to be an extraordinary new camping festival exploring the transformative impact of forests. Music, art, philosophy and sustainability. Timber takes place on the 6th – 8th July in Feanedock, in the heart of the National Forest. The Timber Festival is set to be a thought-provoking three days in the forest, getting back to nature and learning to love the woods.
Just So Festival, 17th – 19th August 
Taking place on 17th – 19th August at the Rode Hall Estate in Cheshire this year's Just So Festival is packed with familiar old favourites and an array of exciting new things to see, do and experience. Step out of your everyday life and enter a wonderland of world-class literature, arts, theatre, dance, music, comedy and creative pursuits together as a family. Immerse yourselves in a weekend full of magical midnight feasts, curious creatures, raucous pillow fights, hidden retreats, top-notch food, drink and boutique camping options and breathtaking beauty.
The Good Life Experience, 14th-16th September
The Good Life Experience is located Hawarden, Flintshire. The festival was founded by friends Cerys Matthews, Steve Abbott and Charlie and Caroline Gladstone. It is a celebration of great food, axe throwing, campfire cooking, group sing-a-longs, comedy, beer, raucous music, poetry, literature and so much more. It's a real back to nature experience for the whole family!
Bluedot Festival, 20th -22nd July
Bluedot is really unique festival, located in the incredible grounds of Jodrell Bank Observatory in Cheshire, it's an event that brings together science, education, music, food and culture and wraps it up in a big festival shaped bow. This year the headline acts at Bluedot are The Flaming Lips, Future Islands and The Chemical Brothers and each day is packed with really interesting things to see and do.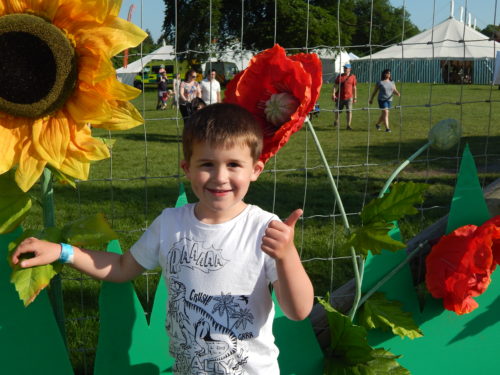 Geronimo Festival, 30th June – 1st July
Geronimo has been going for a few years now. This family festival features the stars of CBeebies and lots of old favourites, plus a host of new activities. When we visited Geronimo in 2016, we loves the arena area which had different shows on throughout the day. There are lots to see and do, but do take a picnic!
Lymm Festival, 21st June -1st July
Lymm Festival is a 10 day festival which runs each year in the lovely Cheshire town of Lymm. The Lymm festival features a wide range of events celebrating various aspects of the village, from the amazing Transport Day where the village is filled with all kinds of transport, old and new including the Batmobile and steam engines; to foodie events, music, literature, comedy, charity dog walks. We'll be going along this year, so do have a look at what's on to see if anything floats your boat!
Foodies Festival, various dates
The Foodies Festival does an annual summer tour around the UK, but sets up camp in Cheshire each July. It's a real celebration of global food with stands and stalls from all over the world. We have visited the festival a few times over the years and it's an interesting day out for foodies; they even have special cooking sessions and demonstrations for children!
bOing! International Family Festival, 25 & 26 August
The bOing! International Family Festival returns to Canterbury this August Bank Holiday to celebrate its 5th birthday in style, with its biggest and best line up yet. bOing! showcases the very best in theatre, dance, music, films created for all ages across Europe. This (mostly) free family festival is a brilliantly theatrical day out for all the family.
There are so many great family festivals on this summer, whatever you're interested in, there's bound to be something to suit your family. Which festivals are you going to this year?